Micador's comprehensive, world-first collection of glow in the dark art and craft materials and products is a great way for children to engage in important STEAM subjects. The acronym is widely used in the education world to reference the core subjects of Science, Technology, Engineering, Art and Mathematics. These specific subjects can be combined to help young children grasp real-world learning experiences through play, creativity and engagement. Even at a preschool age, children can increase their understanding of topics with fun, hands-on learning. STEAM pillars come into play in many different activities, including art! Mixing different paint colours and observing the outcome, for example, is science, and drawing shapes and using patterns involves math.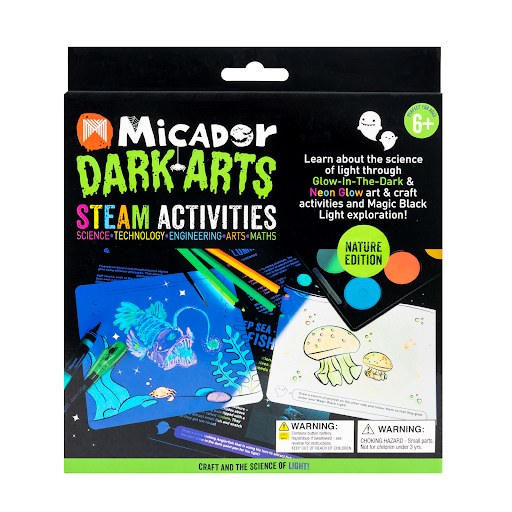 Micador Darks Arts STEAM Activities 
Not only are Micador Dark Arts products innovative and exciting, they are also wickedly educational. The range features phosphorescent and fluorescent products that inspire in new ways. Children can learn about the science of light while creating masterpieces and letting their imagination run wild in the process! The idea of a play-based approach to learning is popular because it encourages a positive attitude to learning. When children find joy in what they're doing, they are more likely to retain important information about it and this range is a favorite for inquisitive little minds.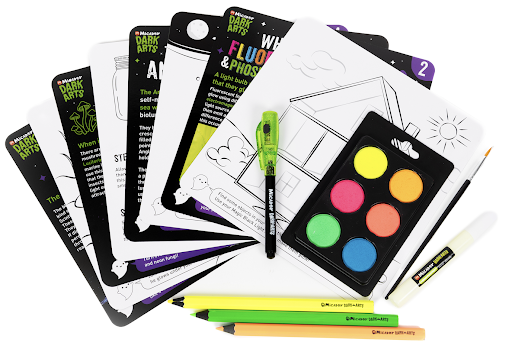 These products engage creativity, communication and critical thinking, so they are beneficial in many ways. They are fun on their own, like the Neon Washable Paint set that goes onto paper fluorescent, but your experience can be enhanced with the Magic Black Light that uses invisible ultraviolet (UV) light to make it glow too! There's also Neon Glow Scented Highlighters, 3D Fluorescent Paint, and a Glow Jewellery Kit to name a few other incredible products that make this collection unique.
Some Fun Glow Facts and Ideas: 
Your T-Shirt Might Glow! 
Some white T-shirts glow under a black light because often detergents contain phosphors that convert UV light into white light.
A Healthy Glow
Some vitamins, like Vitamin A and Vitamin B, are very fluorescent. Try crushing a Vitamin B-12 tablet and dissolving it in vinegar. You should then see it glow a bright yellow under a black light!
Glow Tonic
Try freezing tonic water. The quinine, which is what is used to give tonic a bitter taste, makes ice blocks glow under a black light!
To shop now & experience the full range of Micador Dark Arts, click here