High Flow Acrylic Colors
Golden High Flow Acrylics are an ultra-thin paint with ink-like consistency that provide incredible versatility. They can go directly from bottle to airbrush, refillable marker or dip pen and work great for drawing, staining, dripping, pouring, calligraphy, and color washes.
High Flow offers a palette that includes many single-pigment colors, as well as Fluorescent and Iridescent colors. While it acts like an ink, it's an acrylic so it's compatible with other GOLDEN Acrylic colors and mediums.
Watch & download the paint line video here.
High Flow Drawing & Lettering Set
The High Flow Drawing & Lettering Set provides a selection of ink-like acrylic colors useful for lettering and drawing with pump markers dip pens or brushes. High Flow Acrylic Sets
Watch & download the unboxing video here.
News & Announcements from GOLDEN!
Updates to the QoR Label
We're updating the look of our QoR Artist Watercolor labels. The new design incorporates GOLDEN branding, ensuring artists know QoR delivers the professional quality and superb support Golden is known for. A continuous color band ensures artists can quickly identify color regardless of the tube's orientation, and key information is available front and center – lightfastness, opacity, granulation, staining, and pigment are all now presented on the face of the label. This will be a rolling change, and you'll start to see this label appearing on some colors by the end of the year.
Our Votes, Our Stories: Unstoppable Voters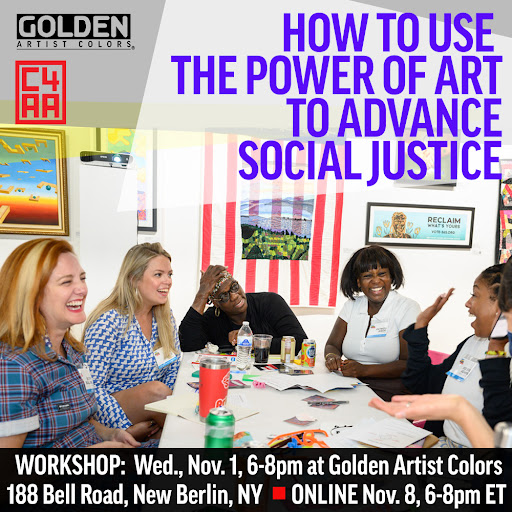 Looking to get more involved in voting activism? Wanting to make real change but not sure where to start? Interested in meeting more engaged folks in your community?
Join us in-person on November 1, 6-8 PM or online on November 8, 6-8 PM to learn all about how to use the powers of art to advance the social justice issues you care about. In Our Votes, Our Stories: Unstoppable Voters, expert trainers from the Center for Artistic Activism will lead you through a fun, interactive workshop where you'll learn the fundamentals of artistic activism, collaborate with other artists and activists to develop campaigns in support of fellow New Yorkers, and leave with creativity and strategic ways to help people vote in your community and across the country.
Learn more here.
Seasonal Shipment Shutdown: QoR Masking Fluid
As you know, QoR Masking Fluid (7001600-2) is a natural latex-based product and accordingly, is not freeze-thaw stable. As a result, we are unable to ship this product safely during the colder winter months.
For 2023, we will cease shipping this product on November 6th. Shipments are expected to resume in late March/early April 2024. Please plan your inventory needs for this product and order accordingly.
Join Golden Artist Colors on Social Media!
You can rewatch favorite videos and find new ones on all our social media channels. Like us on Facebook, follow us on Instagram and Subscribe on YouTube!
Facebook
Golden Artist Colors | PanPastel Colors
Instagram
@goldenpaints | @panpastel
YouTube
GoldenPaints | PanPastel
Vimeo
Golden Artist Colors
If you have any questions about any of the above information, contact your MacPherson Sales Representative.