Kevin's Canson News: Introducing Amsterdam Expert Professional Grade Acrylic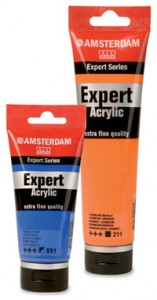 Amsterdam Acrylic Expert is the newest offering from renowned color manufacturer Royal Talens. Made of the best ingredients, this heavy body professional series acrylic is the result of pure craftsmanship.
Many student artists began painting with Amsterdam Standard Series (Van Gogh Acrylic); now Amsterdam Expert Series allows them to continue their growth as an artist with brand that they already know and trust. Because Amsterdam is less expensive than other professional grade acrylics, it makes it easier for students to make the leap to a better paint sooner, and we know from experience those artists who use superior quality products enjoy better results and choose to paint more.

Available in 70 vibrant colors in both 75ml and 150ml clear recyclable tubes, Amsterdam Expert boasts a high degree of pigmentation. Twenty-eight single pigment colors ensure superior color mixing, plus all 70 colors feature maximum light-fastness.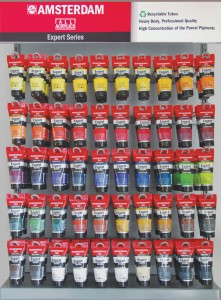 Whether it's Amsterdam Standard Series or Amsterdam Expert, Royal Talens has an acrylic to fit the need of every artist. Through the end of August, Amsterdam Expert assortments (ZRB550-7160 & ZRB550-7162) are available from MacPherson's at an incredible 50/25/20% off drop ship with free freight and free rack.