Industry News
We recently got a sneak peek at Forstall Art Center's new space in downtown Birmingham, AL. They will be moving into the building, constructed in 1903, later this summer. The three story building's first floor will be the retail space, which is slightly larger than their current location. The second floor will be artist studios and classrooms. Annette and Phillip Forstall will create the perfect living space on the top floor. "We're all in" says Annette!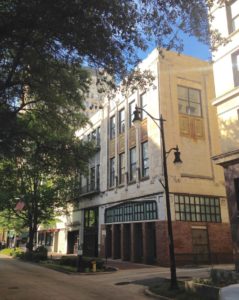 We recently got word from Union Rubber (Best Test) that due to some raw material and other supply problems their Board of Director's has decided to reorganize the company. This means they have temporarily stopped all manufacturing and shipping. They anticipate re-starting operations in May. Until then we have added more sizes in Elmer's Rubber Cement line.
Here is a very cool video showcasing a Virtual Reality (VR) tool Google has developed for creating 3D artwork
?list=PLKfWL8IXgKBte4TfD53pLaHONfSYCX0RH
Howard Kaufman is in the news celebrating his 24th year as America's premier brush maker. The fascinating story that tells how Princeton Artist Brush Company became one of the largest brush suppliers in the U.S. was published in the Mercerspace.com that features local news from Princeton, New Jersey, Read the whole store here.
How Princeton Artist Brush Company became one of the largest brush suppliers in the U.S.
After 65 years, Lee's Art Shop at 220 West 57th Street in Manhattan will be closing. The store sits across from the Art Students League of New York, where aspiring painters learn their craft. It has played a key role in many artist's lives. David Steinberg the CEO of Lee's, explains that "we're closing because the building is being sold." Read the full store Here.
In an article from a recent issue of the Chicago Tribune the art and craft industry has been singled out for its exciting and vibrant growth. Sales of coloring and art supplies grew about 7% in 2015 and now make up a $1.14 billion market, according to market research firm The NPD Group, which attributed the growth to art and craft paper, paint and painting supplies. Featured in the article is Artist & Craftsman's Chicago location. Read the store here.
Looking for a whole different way of looking at the USA's Adult Coloring Book market? Check out this interactive heat map courtesy of Google Shopping Insights
The Italian F.I.L.A. group (Dixon/Ticonderoga, Daler-Rowney, Lyra) announced yesterday that it is in exclusive negotiations to buy 100% of Canson, a wholly owned subsidiary of the Hamelin Group. In a statement, F.I.L.A. said they hoped to reach an agreement by October to buy Canson and all of it's subsidiaries. The exclusivity period for negotiations runs until the end of the year. Massimo Candela, CEO of F.I.L.A. said: "We are very happy to be in talks for the acquisition of Canson, such an important and prestigious brand can make a significant contribution to our group's growth in the years to come, and fits perfectly with our existing family of brands."
Tags: Canson F.I.L.A., Dixon Ticonderoga Daler Rowney Lyra F.I.L.A